Recently, the CSB and DECO labs hosted a research seminar where members of the labs and Dr. John Dovidio presented fascinating studies, shedding light on various aspects of intergroup relations, anomie, self-esteem, social isolation, and discrimination. The seminar showcased the work of five esteemed researchers from the University of Oslo and the University of Bergen as well as John Dovidio. In this blog post, the key findings and implications of each study will be summarized, providing an overview of the valuable insights gained from these research endeavors.
 By Aisha Vogel (intern)

Digital Intergroup Contact and Prejudice Reduction: A Meta-Analysis by Kinga Bierwiaczonek, University of Oslo
Kinga Bierwiaczonek focused on examining the effectiveness of digital intergroup contact in reducing prejudice. The research explored three lines of inquiry: virtual contact, exposure to non-playable characters (NPCs), and embodiment using technological means. The goal was to compare the three forms of digital intergroup contact and determine the factors necessary for effective anti-prejudice intervention.
The study analyzed 60 reports, including 88 independent samples and a total of 9,385 participants. The results indicated that digital intergroup contact had a small effect in reducing prejudice (g = -0.25). Interestingly, the effect did not depend on the type of target group, use of virtual reality (VR), valence of contact, sample gender, contact duration, or explicit/implicit measures of prejudice. Overall, direct contact and computer-mediated contact showed the most significant effects, while virtual reality and embodiment did not offer additional advantages.
Although digital intergroup contact appears to be a promising avenue for prejudice reduction, the study emphasized some caveats that require further investigation.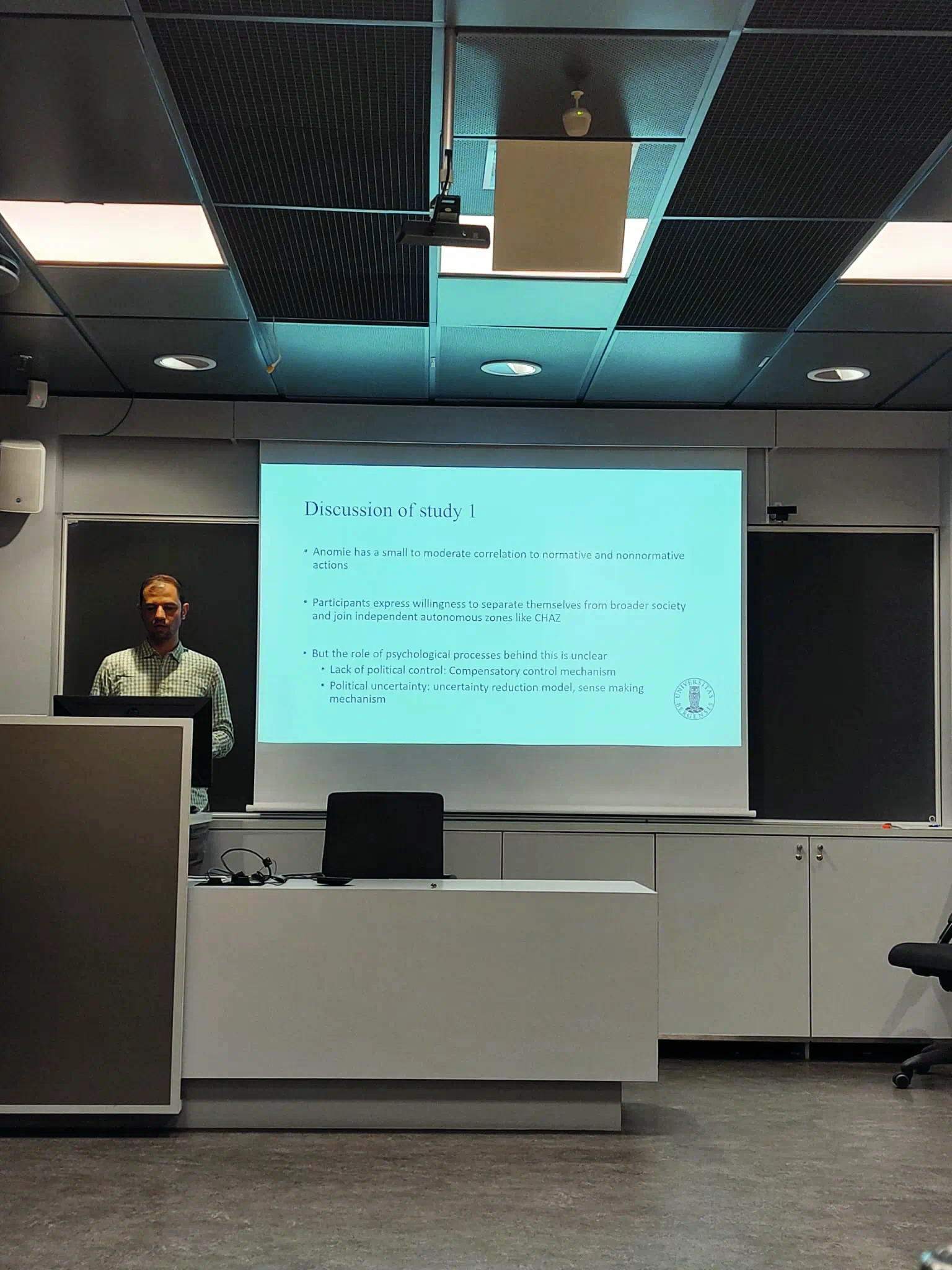 The Effect of Anomie on Willingness to Join Collective Actions by Ali Teymoori, University of Bergen
Ali Teymoori's research delved into the concept of anomie and its impact on individuals' willingness to engage in various forms of collective action. Anomie, defined as the collectively shared perception of the state of society, has been associated with several social and psychological consequences.
Research revealed that anomie is related to reduced well-being, life satisfaction, happiness, increased depression, helplessness, confusion, and even suicide. Moreover, anomie has been found to contribute to anti-immigrant attitudes, conflict, and political violence.
One of Teymoori's studies explored the relationship between anomie and actions such as crime, anti-immigrant attitudes, conflict, political violence, nostalgia, and support for normative actions. Teymoori found evidence that there is a small to moderate correlation between anomie and both normative and nonnormative actions. Participants demonstrated a willingness to separate themselves from broader society and join independent autonomous zones like the Capitol Hill Autonomous Zone (CHAZ). However, the role of psychological processes underlying this inclination remains to be investigated further. The lack of political control can be understood as a compensatory control mechanism. Political uncertainty can be explained using the uncertainty reduction model and sense-making mechanism.
In a second study, the results showed that uncontrollability mediates the relationship between anomie and various types of social and political actions. The tendency to join various types of actions seems to be the result of the perceived respective type of action efficacy.
Teymoori concluded that anomie has an impact on the way in which people engage in their social and political world and that the lack of political control plays a mediating role.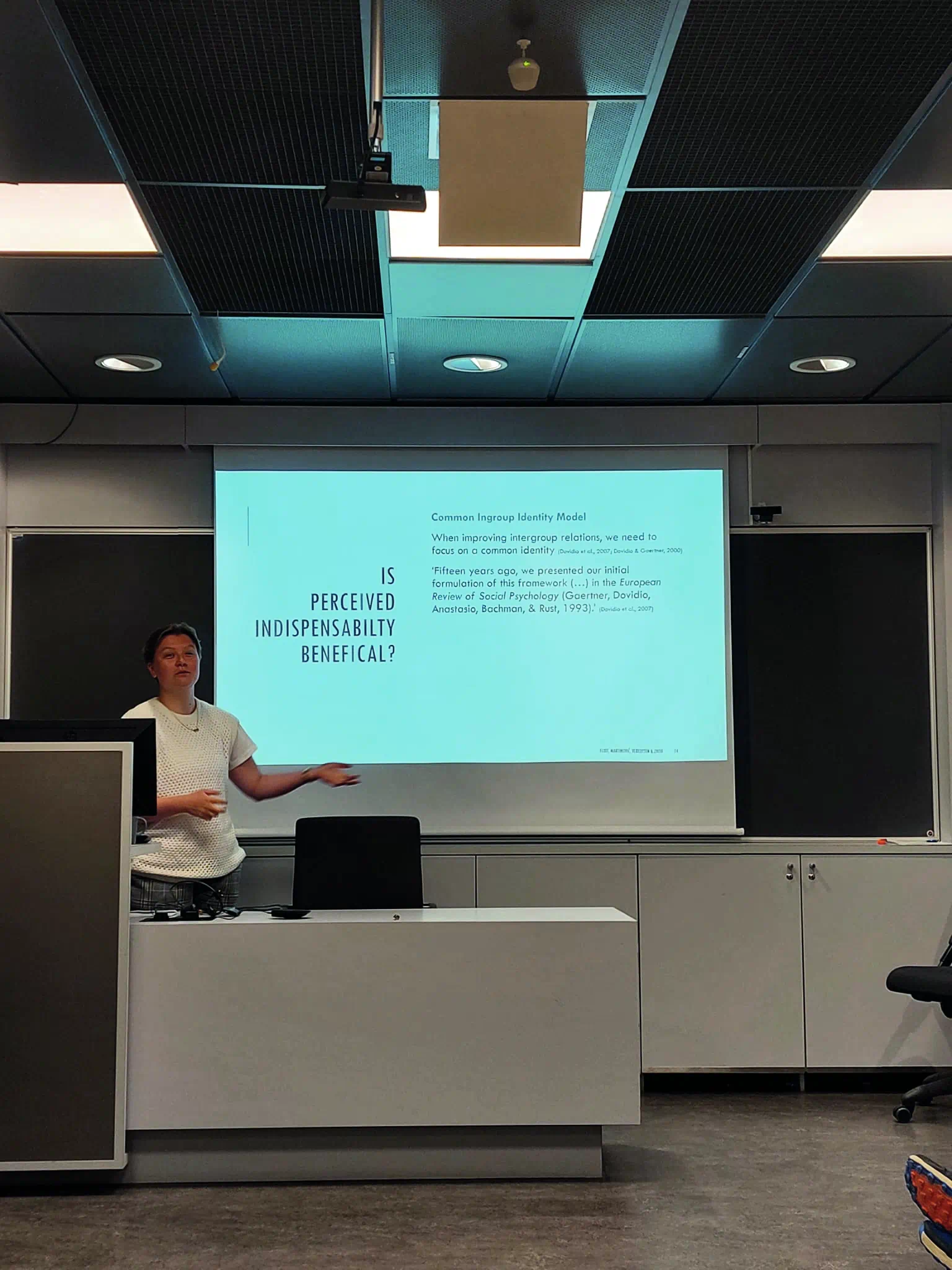 The Role of Emotions and Mental Health in Intergroup Relations by Anne-Marie Fluit, University of Oslo
Anne-Marie Fluit's research focused on understanding the role of emotions and mental health in intergroup relations, with a particular emphasis on political psychology. One study examined the relationship between self-esteem and opposition to immigration. Contrary to common assumptions, the study found that low self-esteem in adolescence was associated with higher opposition to immigration in midlife. The findings suggest that depressed self-esteem, rather than high self-esteem, contributes to negative attitudes toward out-groups.
Another study explored the concept of perceived indispensability and its impact on opposition to separatism. The research showed that stronger perceptions of minorities being indispensable for identity and societal functioning were associated with lower outgroup prejudice and stronger endorsement of minority rights. This highlights the importance of considering both functional and identity indispensability for improving intergroup relations.
Fluit's findings indicate that in scenarios where subgroups express a desire to disassociate themselves from the larger category (such as China or the EU), the perception of indispensability is associated with a greater likelihood of anti-separatism protest intentions. This relationship is partly attributed to dissatisfaction with the subgroup's act of separation. However, discerning the varying political-psychological consequences between the two forms of indispensability remains challenging.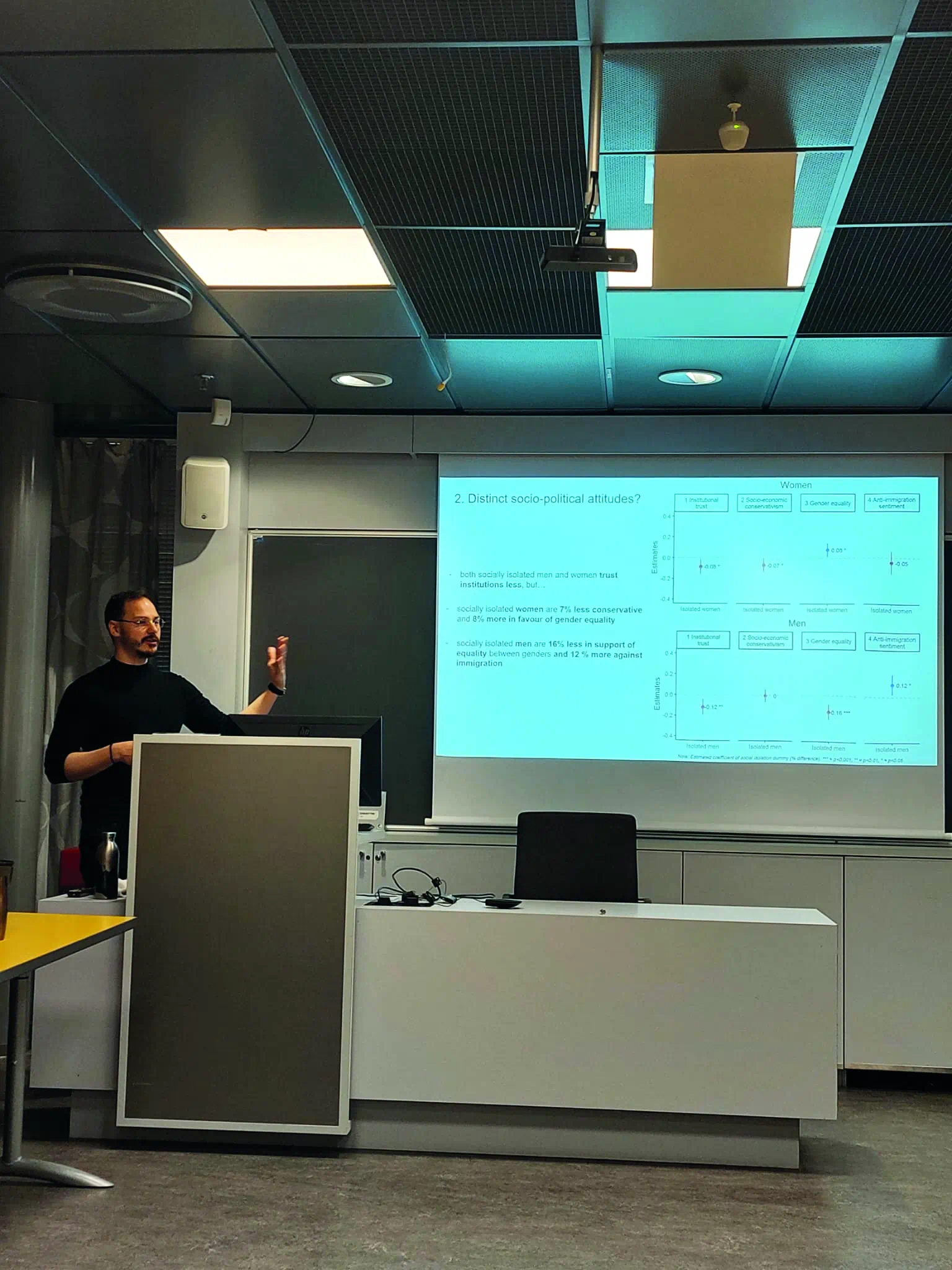 "No sex, no partner, no kids: Adolescent precursors and adult attitudinal correlates of social isolation in midlife" by Michal Kozák, University of Oslo
Michal Kozák's study addresses the social outcomes of diminishing sexual activity, increasing singleness, and a rise in childless older adults.
Kozák's study reveals that a small but noticeable gender gradient exists, with men being over-represented in various categories of isolation, except for sexlessness. Approximately 7% of men and 5% of women experience severe social isolation.
Moreover, there is evidence for an effect on well-being: Both socially isolated men and women report higher levels of depression and loneliness compared to their non-isolated peers.
Importantly, Kozák focused on differences in socio-political attitudes based on people's social isolation: Socially isolated women display a 7% decrease in conservatism and an 8% increase in support for gender equality. Conversely, socially isolated men exhibit a 16% decrease in support for gender equality and a 12% increase in opposition to immigration. Across the genders, socially isolated individuals showed lower levels of trust.
Concluding, the study highlights the prevalence of social isolation among young Norwegian adults in their early 40s and its negative impact on various outcomes. It suggests that socially isolated individuals tend to attribute their situation to the political system. Interestingly, socially isolated women seem to envision a more liberal and egalitarian society as a solution, while socially isolated men tend to lean towards a return to a patriarchal and closed regime.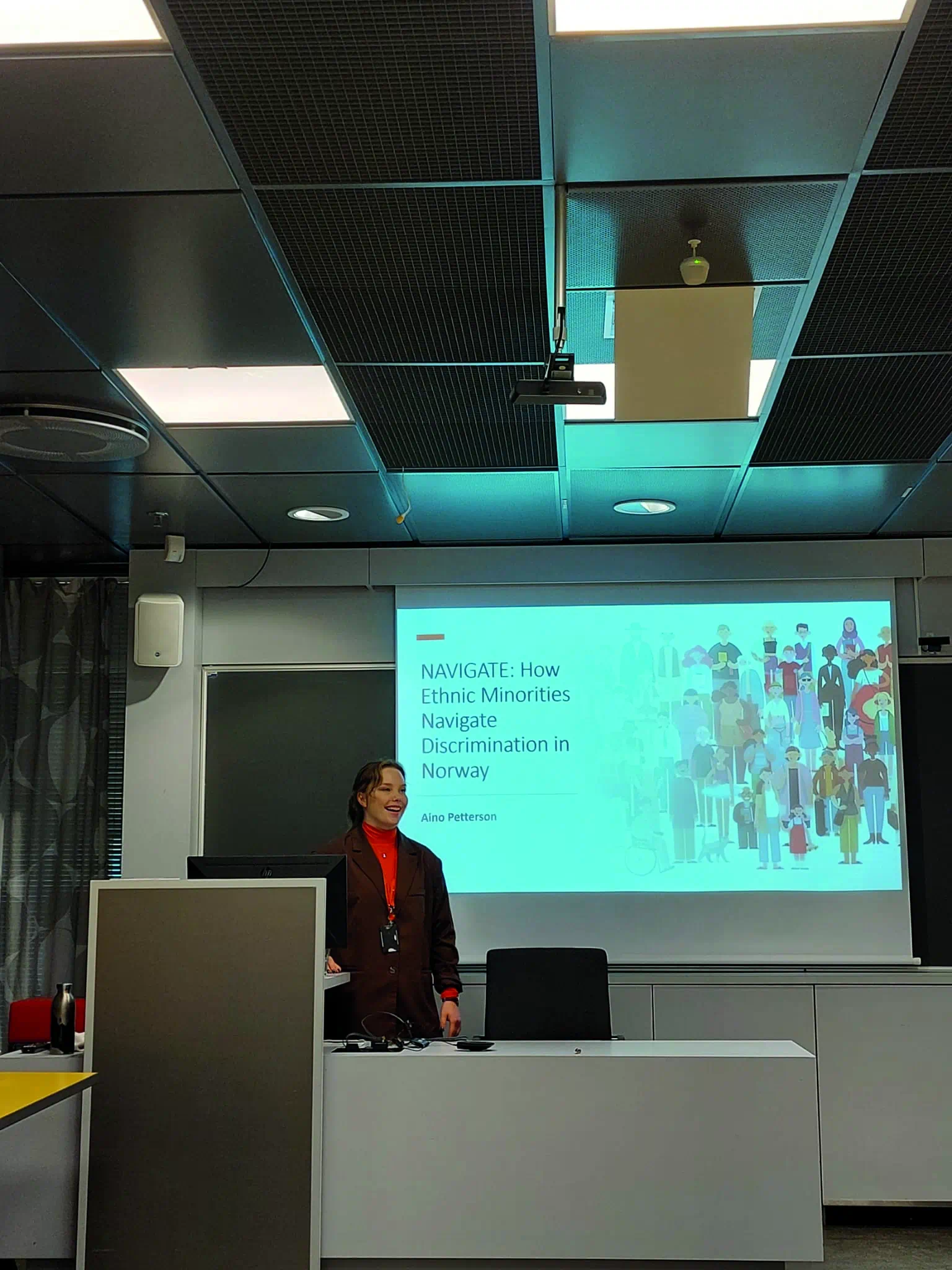 "How Do Ethnic Minorities Navigate Discrimination in Hiring in Norway?" by Aino Petterson
 In her presentation, Petterson focused on prejudice and discrimination faced by ethnic minorities in the hiring process. The study utilized a within-subjects design, involving three candidate ethnicities, two candidate sexes, and two job status/pay levels. Participants assisted minority candidates in selecting application photos, with the assimilation tendency as the key variable of interest.
Predictions included a main effect of diversity support, with participants showing higher assimilation tendencies for no-diversity employers. An interaction between diversity support and job status was expected, particularly in high-paying positions.
Petterson explored interactions with minority ethnicity and participants' perceived discrimination. The study also analyzed warmth and threat ratings of selected photos from the Chicago Face Database in relation to racial assimilation tendencies.
Results showed no significant main effects of diversity support or job status on assimilation tendencies. It is important to note that this analysis is preliminary.
Further investigation into interactions with participants' ethnicity was suggested. Petterson acknowledged limitations and proposed future research using different markers of group membership.
In conclusion, Petterson presented exciting opportunities for future research, involving participants "assisting" minority candidates with application components and exploring the impact of assimilation vs. multiculturalism statements on hiring outcomes.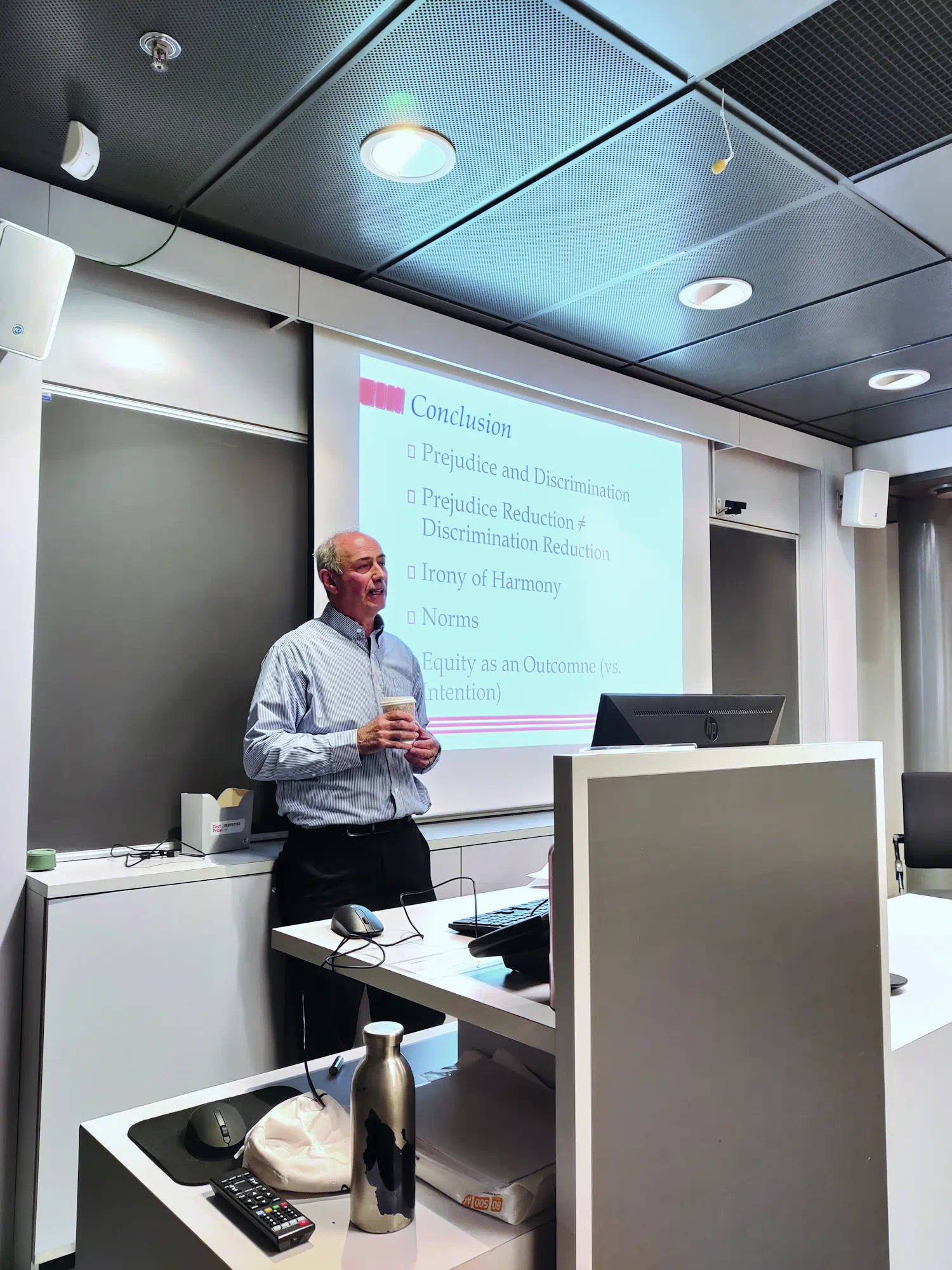 "Reducing Discrimination: Alternative Psychological Approaches" by Professor Dovidio, Yale University
Finally, Prof. John F. Dovidio gave an overview of alternative psychological approaches to reduce discrimination. He highlighted the distinction between prejudice as an attitude (evaluative judgment) and discrimination as behavior (unfair treatment). The relationship between prejudice and discrimination is small to moderate, ranging from 0.25 to 0.35.
Dovidio claimed that traditional interventions to reduce discrimination have limitations. For example, anti-bias training and attempts to reduce implicit bias have shown limited long-term effects and enduring reduction.
Dovidio therefore suggests two alternative interventions for reducing discrimination: An approach to reducing discrimination involves intervention through norms, where norms serve as guides to behavior. These norms operate on a social level, influencing how people should behave and interact with others (referred to as injunctive norms). They are recognized as changeable and influenced by situational factors. By emphasizing and promoting positive norms, there is a potential for individuals to internalize these norms, leading to a shift in their behavior and attitudes toward greater equality and fairness.
Another approach to reducing discrimination involves intervention through a focus on outcomes. This approach emphasizes the aggregation of outcomes, considering the overall pattern rather than isolated incidents. It entails analyzing outcomes in a sequential manner and assigning accountability for these outcomes. By adopting a macro justice framing, the focus shifts to addressing systemic injustices rather than solely individual instances of discrimination. This approach aims to create a broader understanding of the impact of discrimination and promote equitable outcomes on a larger scale.
The research presented emphasizes that prejudice reduction does not necessarily lead to a reduction in discriminatory behavior. It underscores the importance of shifting from color blindness to color consciousness and highlights the significance of focusing on outcomes and promoting equity at a systemic level.
Conclusion
Attending this research seminar provided valuable insights into the complex dynamics of intergroup relations, anomie, self-esteem, social isolation, and discrimination. The studies presented shed light on the effectiveness of digital intergroup contact in prejudice reduction, the consequences of anomie on individuals' willingness to engage in collective actions, and the role of emotions and mental health in shaping intergroup attitudes. Moreover, the presentations shed light on critical societal issues such as the prevalence and negative consequences of social isolation, discrimination in the job application process, and alternative approaches to address discrimination. Understanding and addressing these challenges can help create a more inclusive and equitable society.